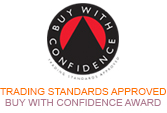 Welcome to Orange Parking
Trading Standards Buy With Confidence
Buy With Confidence:
Our business has been audited by Trading Standards to ensure we comply with consumer protection legislation now we have passed we can display the Buy with Confidence logo and be entered onto the Trading Standard website. Approved businesses are monitored on a regular basis and feedback is invited from our customers.
www.buywithconfidence.gov.uk
Members of the British Parking Association

Park Mark Safer Scheme

Our car park has been inspected by a specially trained Police Officer. By choosing a Park Mark Safer Parking facility your vehicle will be parked at a car

park

that has been vetted by the Police and has measures in place in order to create a safer environment for your vehicle. The car park is regularly visited and re-assessed by the Police. With nine years at Stansted airport your vehicle could not be in safer hands.
Where is my car parked! (On Airport photo below)

How far will my car travel! (2.8 mile round trip)

We photograph your vehicle record

mileage and fuel level.
Our Mission
To supply the most practical and cost effective logistical solution for our customers when parking at Stansted Airport by applying maximum effort, efficiency,safety,and security, with superior customer service.
Our On Airport Facility has 24hr manned Security, your vehicle will ONLY COVER A 2.8 MILE On Airport Round Trip. We r
ecord your
mileage & fuel level & we
photograph every panel on your vehicle as a record of the condition when delivered to us.
Please
REVIEW US! (Google: orange parking reviews)
Entry/Exit Fees
As a result of the front of the terminal building at Stansted Airport being indefinitely closed, ALL customers will be required to bring £2.80, in cash, to hand to our representative upon booking in. This is so our representative can pay the Stansted Airport charge of £2.80 to remove your car from the Stansted Airport car park and then park it in our safe and secure compound. Customers will also be required to pay their £2.00 exit fee on return to exit the barrier when retrieving their car. This is as a direct result of changes here at Stansted and is a cost we cannot cover for our customers. Sorry for any inconvenience this may have caused. But if you book with us via phone we will give you a 10% discount which we hope is a small way to help you keep your parking cost down.

Latest News
08/11/12 - Beware Rogue Traders!
Valet Parking or Meet and Greet Parking are without doubt the most convenient and quickest car parking services at Stansted Airport. However, handing your valuable car over to someone else for them to drive to their car park isn't...